Lanarkshire Philatelic Society
"Members' Night"
"The 1,000th Meeting"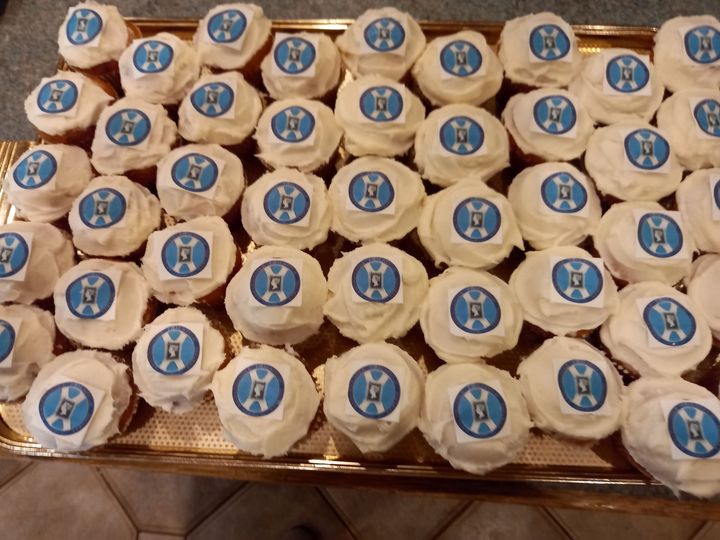 Celebration Cakes
(with thanks to Maureen Mathieson)
There was an air of celebration at the meeting of the Lanarkshire Philatelic Society on Friday evening – celebrating the first meeting since March 2020 – and celebrating the 1000th meeting of the Society!
To celebrate the two events, members were asked to each present a one frame display - and they did not disappoint! Through the evening a wonderful variety of subjects were shown. Stamps of Great Britain – of Queen Victoria; issued at the Millennium; from Scottish Islands; the Prestige booklets; and the Falkland Island Dependencies. Also displayed were stamps of South Africa, and of the German Democratic Republic through the years.
Other subjects ranged from Football (one player from every Scottish team) and a profile of St Johstone FC; Lighthouses of New Zealand; Mountains and Geology of Arran; the Royal Maundy; Zeppelins; German Occupation of Lithuania; Christmas post delivered by balloon; Medicinal plants; Aspects of Chemistry; Tall Ships; views of Fiji; of Zanzibar; of Chambois; interesting views of Alexander Hamilton (one of the Founding Fathers of the USA); and a step back in time to postmarks of Lanark 1738-1840. Also stamps pertaining to Covid19!
All these displays were presented by members –
Maureen Mathieson, Walter Simpson, Chris Moffat, Ken Liddell, Frank Jardine, Brian Dow, Elsie Miller, Ken Norris, Andy Napier, Alex Grimson, Derek Wiltshire, Walter Tytherleigh, Gordon Jamieson, Bob Forrest, Ed Archer, Margaret Lyth, Terry Woods, Sheila Sinclair, Beata Sim, Alex Green, David Haig, and Alex Magowan.
Members were also each given – to take home - a small cake with the logo of the Society imprinted on the top of the icing - and also presented with a postal cover with a Hamilton postmark dated the 8th October 2021 – marking the 1000th meeting.
The President, Andy Napier, gave warm thanks to all who had displayed and presented such an interesting evening.
Our next meeting in the Caledonian Bowling Club, Motherwell Road, Hamilton, is on Friday, 22nd October, 2021, at 7:30pm when the new President, Dr Brian Dow, will present his display.
Anyone with an interest in stamps, postal history, postcards etc is very welcome to attend.
More details of the Society's programme - and much more information – can be obtained from our web site – www.lanarkshireps.co.uk