Lanarkshire Philatelic Society
"Farming"
Dr. Brian Dow
In his boyhood days, Lanarkshire Philatelic Society member, Dr Brian Dow of Carluke, enjoyed helping on his grandfather's farm and this encouraged his interest in collecting stamps, first day covers, postmarks, postcards on the subject of "Farming".
He presented a wonderful display of many aspects of Farming through the years – beginning with various Covers which had contained letters relevant to farming and posted in the 18th Century.
An Air Letter issued in 1975 to commemorate Robert Burns – showing the postmark of his plough which so disturbed the "wee beastie" – was displayed. There was amusement when viewing stamps and postcards showing the horse drawn ploughs, ancient tractors and threshing machines of yesteryear - while other strange machinery caused much puzzlement – "How did they work? What did they do?" Then a set of stamps from Germany brought the machinery right into the modern age – with even more intriguing views!
A cover of 1973 commemorated the "World Ploughing Championships" and other covers, stamps, postcards showed Shire horses, Sheep – including shearing and spinning - sheepdogs, many breeds of Pigs, Cattle and also Hens. Another cover commemorated Burns' stay at Ellisland Farm, near Dumfries.
There was a fascinating display of material relating to the Royal Highland Show beginning with a cover dating from 1843 – containing a letter written to the Secretary of the Royal Highland Society – and further covers posted during the Highland Show in pre-war years.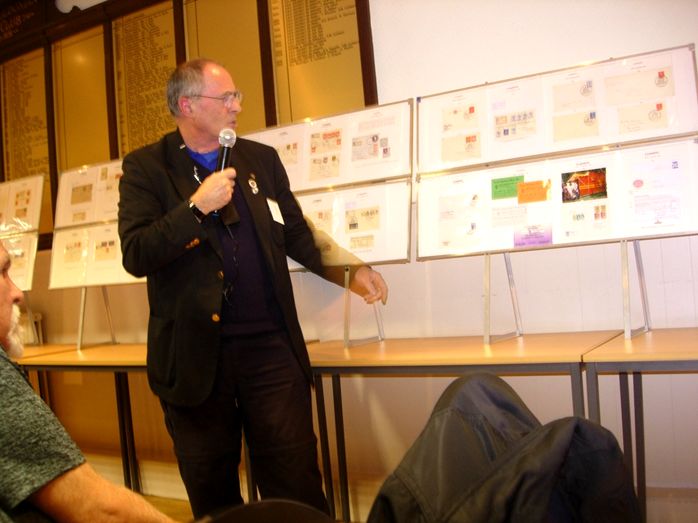 Brian Dow shows tickets and ephemera for the Royal Highland Show
Historical Postcards illustrated the different Showgrounds - 1949 in Dundee; in 1952 in Kelso and in 1953 in Alloa and many showing Ingliston in Edinburgh – also covers posted from the various Shows. A photo showed a temporary Post Office serving during one Show at Ingliston. Tickets of admission to the various Shows were displayed.
Finally an interesting display of medals won for various competitions at the Shows through the years was presented.
Walter Simpson led members is giving warm thanks to Brian Dow for giving such a brilliant insight into the subject of farming through his excellent presentation.
Our next meeting in the Caledonian Bowling Club, Motherwell Road, Hamilton, is on Friday, 31st January, 2020, at 7:30pm when guest, Dr Stewart Gardiner FRPSL, will present his display of "Levant".
Anyone with an interest in stamps, postal history, postcards etc is very welcome to attend.