Lanarkshire Philatelic Society
"Historic Clydesdale"
"Crossford Stamp Group.....and Friends!"
"Historic Clydesdale"- this was the title of the display presented to the Lanarkshire Philatelic Society on Friday evening (16th) by members of the Crossford Stamp Club and Friends. It proved to be a wonderful presentation!
There was much reminiscing amongst members as they viewed wonderful Historic postcards of many of the villages of the original county of Lanarkshire.
These were displayed by:
Alan Rushworth – Crossford;
Alan Wishart – Law;
Graham U'ren – New Lanark & Falls of Clyde;
Ken Liddell – Clyde Valley, Ashgill, Tillietudlem, Netherburn, Crawfordjohn, Blackwood, Kirkmuirhill, Auchenheath, Elsrickle, Walston, Dolphinton, Dunsyre, Douglas, Glespin, Rigside & Sandilands;
Bob Bradford – Forth & Wilsontown;
Bill Muir – Drumassie & Waygateshead;
Mike Cleary – Clydesdale's Hospitals.
This delightful tour of the villages continued in the second round:
Ed Archer – many historic views of Lanark; Thankerton, Lesmahagow, Coalburn, Carnwath, Newbigging, Kalmend, Braehead, Auchengray, Tarbrax & Woolfords;
Bill Groves – the saga of Westport Post Office, Lanark;
Brian Dow – Carluke, Braidwood, Carstairs and Carstairs Junction, Lamington, Coulter, Wandel & Douglas;
Gary Cheyne – Elvanfoot, Leadhills, Biggar, Roberton, Abington & Wiston;
Alex Grimson – covenanting history and also postmarks of Law.
The Crossford Stamp Club also wished to remember 2 long serving members who are now deceased – and gave displays from their collections - Gordon McDowall – Winter Olympics and Eric Ross – Mountains of Mid Atlantic Ridge (Iceland).
Ken Norris led members in giving warm thanks to all for giving such a wonderful variety of material to view – and reminisce about!
Thanks were also expressed to Dr Ken Liddell who organised the evening.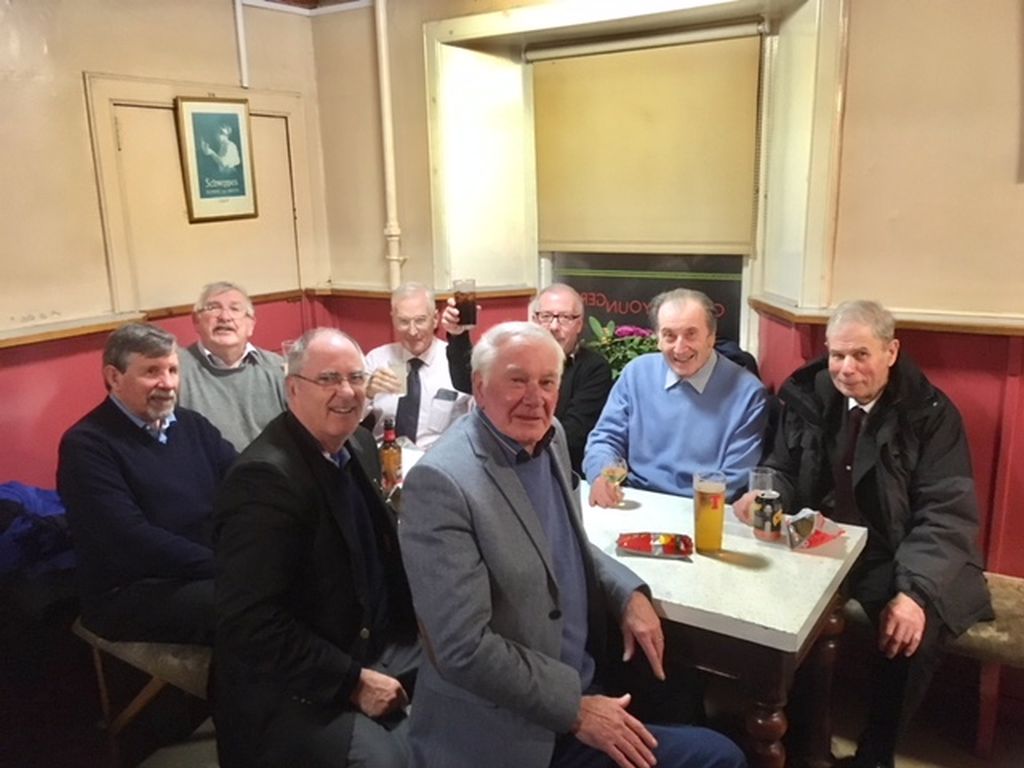 Members of Crossford Stamp Group "celebrating" their display in the traditional manner!
Our next meeting in the Caledonian Bowling Club, Motherwell Road, Hamilton, is on Friday, 2nd March, 2018, at 7:30pm when Dr David Stalker will present his display of New Zealand.
Anyone with an interest in stamps, postal history, postcards etc is very welcome to attend.