Lanarkshire Philatelic Society
"Straits Settlements"
Mr. Bill Shand
A very warm welcome was given to Bill Shand of Tees-side who was the guest speaker at the Lanarkshire Philatelic Society on Friday evening (17th November). He is a member of Stockton Philatelic Society and was delighted to present his display of the Straits Settlements to members.
With the help of a map, Bill explained that the Straits Settlements were British Settlements in Southeast Asia and pointed out that Post Offices were opened in Penang, Malacca and Singapore.
With the display of postal cancellations, stamps, watermarks, covers, postage dues, postal stationery, newspaper cuttings – and interesting Cocktail menus! – Bill gave a fascinating insight into the postal history of the Straits Settlements.
It was in 1867 that this became a Crown Colony. Prior to this mail was sent through the Post Offices of Penang, Malacca and Singapore and carried by passing ships. Some examples of 'Boxed' handstamps and Spider Web cancellations were displayed. After 1867, stamps, bearing the head profile of Queen Victoria were issued. Through the years many overprints appeared on these – to denote Native States – including Perak, Sungel, Johor and others – and also to show changing money values.
In 1902, definitives with King Edward VII were issued. Bill also showed Postal Stationery issued during this King's reign. The stamps continued to follow the reigns of King George V – with definitives issued in 1910 and commemoratives issued to mark his Silver Jubilee in 1935. In 1937 definitives showing King George VI were issued and, in this same year, commemoratives were issued for his Coronation. Also in 1937, the stamps now bore the name Malaya.
Much change happened during World War 2 when the Japanese invaded and occupied the whole area. At the end of the war – in 1945 – British military issued Straits Settlements stamps but overprinted with Malaya BMA – and these were used throughout Malaya. In 1946 the Colony was dissolved.
The development of air travel from this region was displayed with fascinating philatelic and newspaper material.
Recipes for Cocktails? Of much interest was material from the Raffles Hotel in Singapore - this building had opened as a Hotel in 1887 – and some rather exotic recipes were viewed!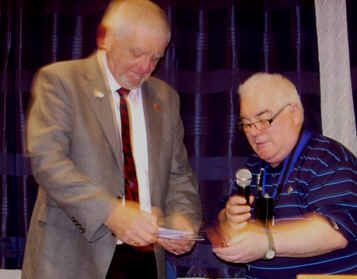 Bill Shand receives his Certificate of Thanks from President, Terry Woods
Dr Brian Dow, led members in giving warm thanks to Bill Shand for presenting a wonderful display of fascinating material which had given much interest to members.
Our next meeting in the Caledonian Bowling Club, Motherwell Road, Hamilton, is on Friday, 15th December, 2017, at 7:30pm when members will present their displays on the theme of "Christmas Dinner".
Anyone with an interest in stamps, postal history, postcards etc is very welcome to attend.