Lanarkshire Philatelic Society
"British Writers"
Mr. Kenneth Norris FRPSL
On Friday evening, 6th October, the Lanarkshire Philatelic Society was entertained by member Ken Norris who, in all 50 years of the Society's existence, has never missed a meeting!
Ken's display was on the theme of "British Writers" and he gave a wonderful display of stamps, covers, meter marks, cachets and postcards all relating, in alphabetical order, to Authors and their Writings – books, poetry, comics.
In the first round he began with Jane Austen through to Kenneth Grahame - 24 authors - this included the Brontës, J.M.Barrie, Robert Burns, Geoffrey Chaucer, Agatha Christie, Roald Dahl, Daniel Defoe, Elizabeth Gaskell, Daphne du Maurier, Oliver Goldsmith...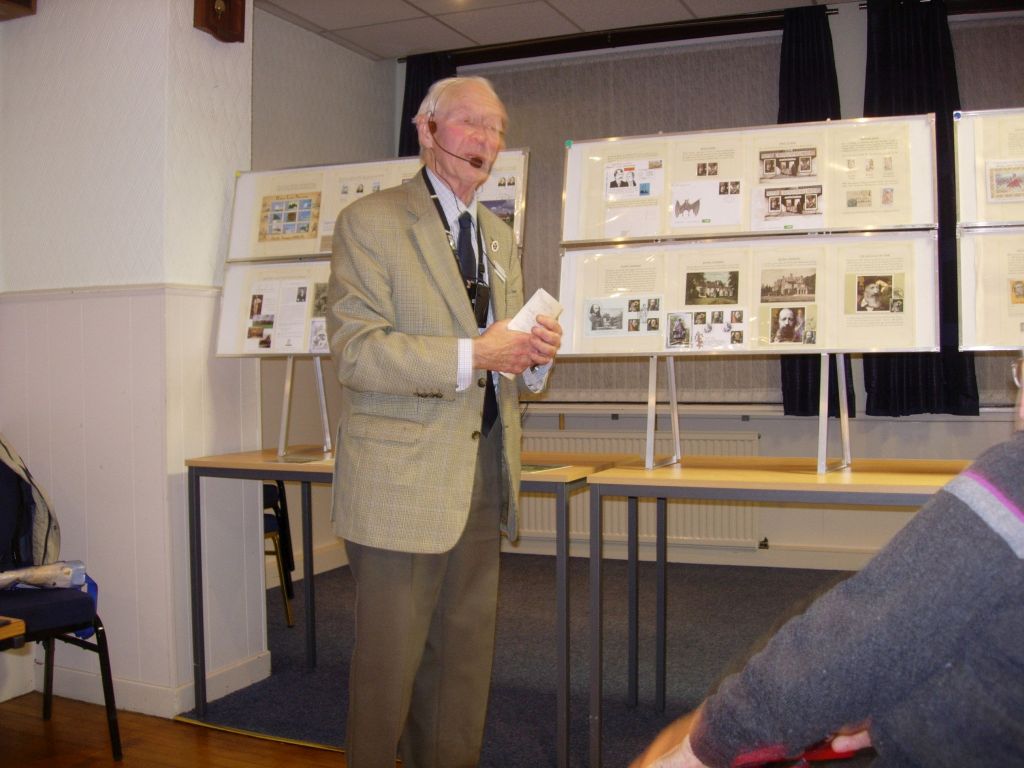 Ken.....in full flow!
In the second round members viewed the writings of some 26 authors – beginning from Thomas Gray through to William Wordsworth. This included W.E.Johns, John Keats, Edward Lear, Hugh MacDiarmaid, Beatrix Potter, Robert Louis Stevenson, Bram Stoker, Jonathan Swift, Mary Tourtel, H.G.Wells ...
Members were reliving their childhoods as the viewed the fascinating material - and even remembered some 'Compulsory Home Readers' of schooldays!
Elsie Miller led members in thanking Ken Norris for presenting such an interesting biographies and illustrations – also giving an educational display.
Our next meeting in the Caledonian Bowling Club, Motherwell Road, Hamilton, is on Friday, 13th October, 2017, at 7:30pm when members will give their displays on the theme of "Golden".
Anyone with an interest in stamps, postal history, postcards etc is very welcome to attend.