Lanarkshire Philatelic Society

"Scottish Soldier"

Mr. Gary Cheyne

The title for the display presented to the Lanarkshire Philatelic Society on Friday evening (3rd Nov) was "The Scottish Soldier" – with the subtitle "The Ladies from Hell – a brief history of the Scottish Soldier".

"Ladies from Hell" – that was the nickname given by German soldiers in World War 1 to the kilted soldiers of Scotland!

In his brilliant display Gary, with postcards, a few stamps and covers, traced the development of the Scottish Army from its beginnings as Clan groups and as garrisons in various Scottish Castles. In 18th Century barracks were built at Berwick on Tweed (1717); Ruthven (1724) and at Corgarff in 1748. It was not until the Crimean War that recruitment became more formal and organised. Also recruitment now took place in geographical areas.

The display gave details of some of the many battles fought by the Highland Regiments – both at home and overseas. Emblems, uniforms, (including the change necessary during the Disarming Act) - the weaponry through the years were shown.

Members were delighted to view the postcards of the various Regiments through the years – The Highland Light Infantry; The Seaforth Highlanders; Royal Scots Greys; The Cameronians; The Black Watch; The Coldstream Guards; The Scots Guards; The Royal Scots; Queen's Own Cameron Highlanders

; King's Own Scottish Borderers; The Gordon Highlanders & the Argyll and Sutherland Highlanders.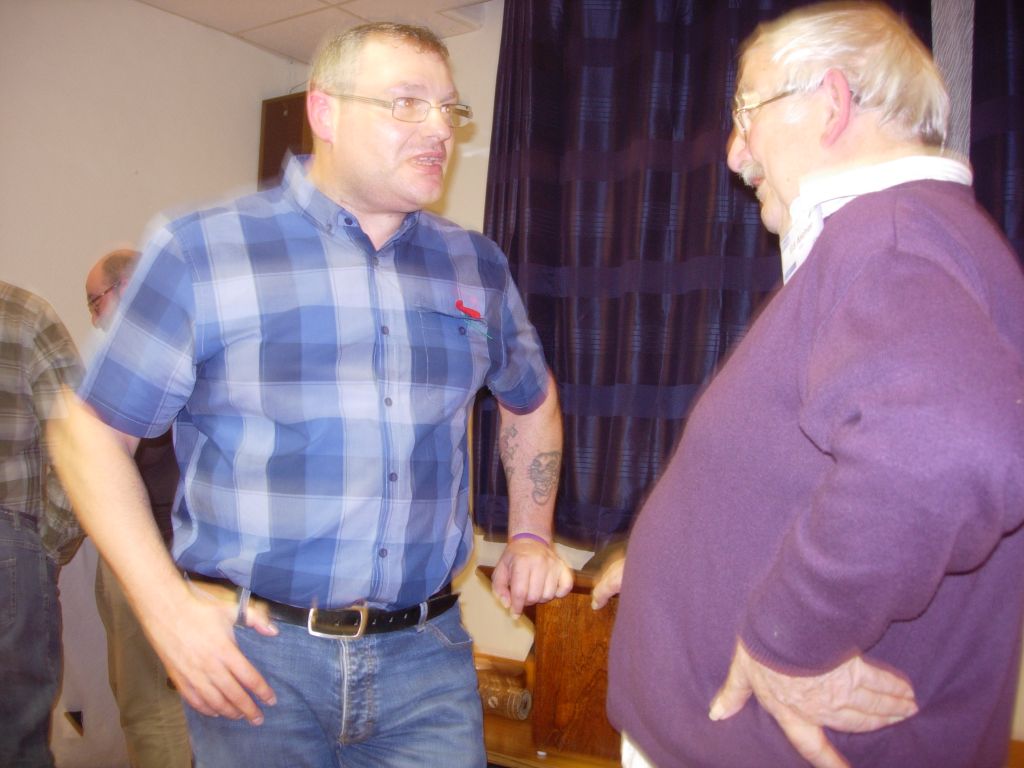 Gary (left) discusses his display with Ed Archer.
Many of these evoked memories – some of members who themselves who had served in the Second World War – or remembered fathers and relatives who had served.
Gary also mentioned the various Disbandments and Amalgamations that had happened through the years – which has now led to the formation of The Royal Regiment of Scotland. He finished his display with views of The London Scottish Regiment – now the 'A' (London Scottish) Company of the London Regiment.
Walter Tytherleigh led members in giving warm thanks to Gary for presenting a
first class display which had given much interest to members.
Our next meeting in the Caledonian Bowling Club, Motherwell Road, Hamilton, is on Friday, 17th November, 2017, at 7:30pm when members look forward to welcoming Bill Shand who will present his display of "Straits Settlements".
Anyone with an interest in stamps, postal history, postcards etc is very welcome to attend.