Lanarkshire Philatelic Society
"President's Night"
"Mr. Terence Woods"
"Lanarkshire Postal History"
A Postal History of parts of Lanarkshire was the subject of the display presented by the new President, Mr. Terry Woods, at the Lanarkshire Philatelic Society on Friday evening. It was a truly wonderful display.
Members were taken, in the first round, through the postal history of Motherwell and Wishaw.
The display, began with Motherwell, and showed in 1846, 'straight line single name' postmarks - MOTHERWELL - and, continuing through the years, these developed into boxed; single and double ring circular postmarks and later the double ring with arcs and cross at base. Examples of the Krag mark and also the triangular mark with 'S64' were shown. There were many covers showing all these developments. Registration labels of Motherwell were displayed as were covers with 'Missent to ...' and 'Undelivered – Return to Sender' stamped on them. Special postmarks – 'Commonwealth Games 2014'; 'MOD 1983' and covers bearing the special cachet of the Ravenscraig towers were shown.
In 1967 new postmarks for 'Motherwell and Wishaw' were issued – and examples of these were viewed.
The display then showed the similar development of the postmarks for Wishaw from 1842, and through the years, until 1967. To finish this round, postcards and photos were displayed showing various Post Offices in the Motherwell and Wishaw areas – some still in business, others long since disappeared. Also shown were some privately marked mail sent from various landed estates in the area.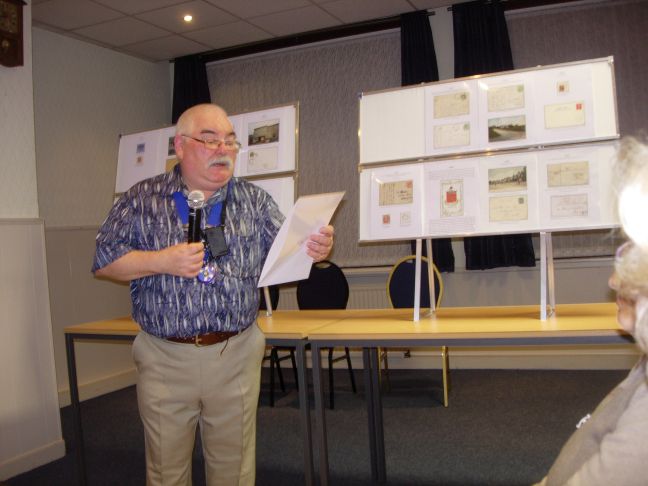 President, Terry Woods.......in full flow!!

In the second round, Terry interested members with his display of the postal history of Biggar and of villages in the surrounding area. A post Office opened in Biggar before 1715 and in 1790 the 'straight line single name' postmark was used. The development of the postmark through the years was well displayed.

Then into the postal history of Symington; Lamington; Thankerton; Roberton; Wiston; Elsrickle; Coulter; Elvanfoot; Skirling; Abington, Crawford and Crawfordjohn. All these villages had its own post office and its own postmark. Sadly many of these are now gone, but fortunately, one member, Mrs Julia MacLeod took herself round and about and photographed many of these post offices before closure and these photos were shown – to the delight of many members.

At the end of the first round, Terry, as a memento of his display, invited members to each stamp a cover using a manual date

-stamp from Forth. He gave a demonstration of how to use this correctly. There was soon a queue of willing participants!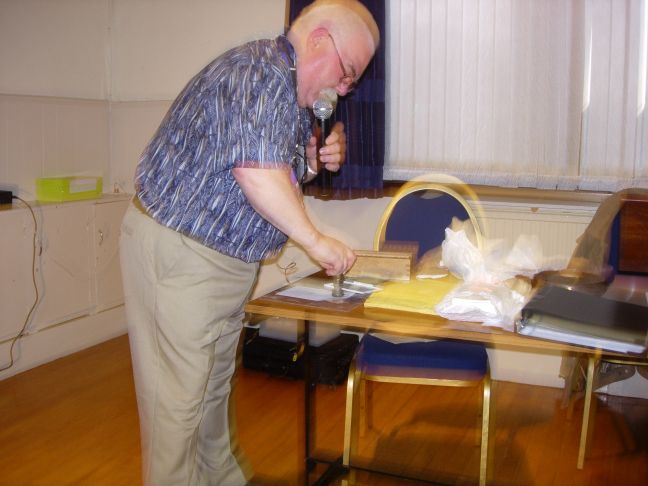 Terry gives his demonstration of how to, correctly, date-stamp a cover
Members were in full agreement when the immediate past President, Raymond Baldock, in his Vote of Thanks, remarked that this had been a most interesting display – from which members learnt so much.
Our next meeting in the Caledonian Bowling Club, Motherwell Road, Hamilton, is on Friday, 15th September, 2017, at 7:30pm when our guest, Dr Stewart Gardiner, FRPSL, will display 'Africa'.
Anyone with an interest in stamps, postal history, postcards etc is very welcome to attend.