Lanarkshire Philatelic Society
Honorary President wins ABPS award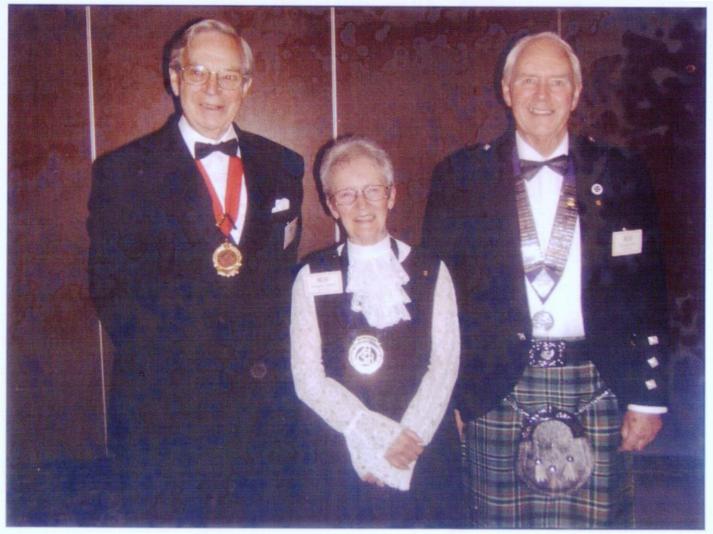 Ken Norris (right) with his sponsor Margaret Morris
and ABPS Chairman, Professor John West.
Our Honorary President, Ken Norris was awarded the ABPS Congress Medal for 2006 in recognition of his many years of promoting philately in Scotland. Ken, a member of many societies, was also National Exhibition secretary for ASPS from 1983 to 1989 and has also been involved, for many years, with the Dundee Philatelic Weekend. He also played a key part in the organisation of the ABPS Exhibition at the SECC, Glasgow, 2000.
The medal was presented to Ken at the ABPS Congress, held in Renfrew, during July 2006.
From ABPS web site ~~
Congress Medal 2006 – Kenneth E. Norris

""Kenneth Norris has been a Delegate, or Deputy Delegate, to the Association of Scottish Philatelic Societies from 1969 and over the years he has been responsible for various aspects of the running of the ASPS. He has served the ASPS as President of the annual congress in 1979, and he was National Exhibition secretary of the ASPS from 1983-89, which involved much organisational work concerning the exhibits and their necessary paperwork. Ken was appointed to the organising committee concerned with arranging the first Dundee Philatelic Weekend. He is still involved with this work.

Ken Norris has attended all ABPS AGMs and the biennial exhibitions, and he has served as convenor of workshops held in Scotland and the North of England and has also run two judging seminars. Ken was involved with the organisation of Glasgow 2000 and he looked after the accommodation and banqueting arrangements, and he carried out much work behind the scenes to help make this event a success.

Ken is a member of many philatelic societies such as the Lanarkshire PS, Alba Stamp Group, Caledonian PS, Scottish PHS, Strathclyde Postcard Club, Glasgow Thematic Club, Society of Postal Historians and he is a member of the Royal Philatelic Society London.

Ken has also taken an active part in helping to run a school stamp club where his working experience as a teacher has been most useful. He has a great enthusiasm for the hobby, is a keen supporter of all the clubs and societies to which he belongs, often having served on the Committees in the various posts. He has a delightful, friendly manner and a great memory for names and faces. He is a truly worthy recipient of the Congress Medal which was presented to him at the ABPS Congress in Renfrew"".