Lanarkshire Philatelic Society
PITCAIRN ISLAND & other topics
Miss. J. Toombs FRSA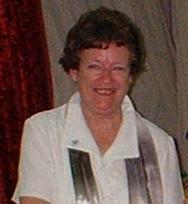 Society members were given a rare insight into stamp designing at our latest meeting thanks to our special visitor, renowned designer, Jennifer Toombs.
Jennifer opened her talk by explaining the background to a stamp issue. Starting with a commission from the Crown Agents, who determine the topic, Jennifer explained that 90% of a stamp design/issue is research, which, in her case, has resulted in her visiting Pitcairn Island. Visiting Pitcairn is no easy feat. She first travelled to Fiji, then New Zealand (by air), and then by sea to Pitcairn, where she had all of 12 days to do her research, which involved lots of drawings, photographs and, of course, talking to the island's inhabitants.
Her first Pitcairn stamp design was a commemorative issue for Bligh's death, which resulted in two ideas. Roughs are then done followed by research into naval uniforms of the time before final proof stage is reached. The end result was a set of 4 stamps and a First Day Cover design. Subsequent designs for Pitcairn issues have been a Minisheet for Her Majesty, Queen Elizabeth, The Queen Mother (a stamp within a stamp) and a 4 stamp set on Amateur Radio on Pitcairn, which she explained was an integral part of the fabric of the island. She explained that each islander has their own call sign, the first operator was Andrew Young, and a medical emergency results in a Mayday call for which a passing ship may have to divert to answer.
Jennifer's second round was a display of many of the issues from around the world which she's designed. These include more Pitcairn Island; 2 sets of definitives showing handicrafts and Pitcairn history, Flowers & Fish (some of which have exotic names such as "Aunty & Ann", "Dreamfish", "Whistling Daughter" and "Elvin's Trousers") & Commonwealth Day.
Other countries for which Jennifer has designed stamps include USA (1988 Bicentennial, and Wildlife in the Caribbean), Fiji (Bligh's Epic Journey, 1988), Dominica (9 stamps within a minisheet), Bahamas (Christmas), Ascension (Flowers), Gibraltar (Peace & Freedom, 1995), Isle of Man ("Europa, 1994"), Antigua & Barbuda (Flora & Fauna), Jersey (Centenary of Royal Jersey Golf Club, Chess and the 50th Anniversary of the Queen's Coronation featuring the Crown Jewels).
Jennifer completed her presentation by showing First Day Covers she'd designed from British Virgin Islands (Christmas), Samoa (Bats & Orchids), Pitcairn (Christmas), Bahamas (Christmas) & Guernsey (Christmas).
Margaret Allan accorded the Vote of Thanks to a most interesting presentation.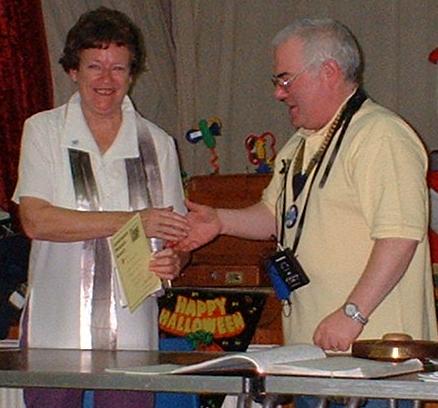 President Terry Woods presents Jennifer
with a memento of her visit.
Our next open meeting is on Friday 26th November, when we'll be entertained by members visiting from Edinburgh Philatelic Society.